Custom Logo Microfiber Golf Towels
Super Plush Microfiber Fabric
Logos look best and really pop on extra plush microfiber, and your clients will appreciate having custom logo Greens Towels on their golf bags. Made from soft, super-absorbent microfiber, each perfectly-sized (16″ x 16″) Greens Towel comes with an easy-to-use carabiner clip. Microfiber golf towels outperform and outlast ordinary cotton towels.
"Best in Category" Custom Logo Golf Towel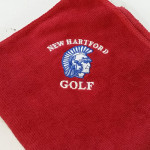 Experts agree that Greens Towels are "Best in Category" custom logo microfiber golf towels. Tens of thousands of golfers have experienced superior results with Greens Towels, making them a top choice for golf tournaments prizes and promotional golf gifts. The Convenient Microfiber Golf Towel is fast becoming the #1 custom logo towel in golf.
Laser Etch & Embroidery  
Choose from Two Custom Logo styles: Color Embroidery or New Laser Etching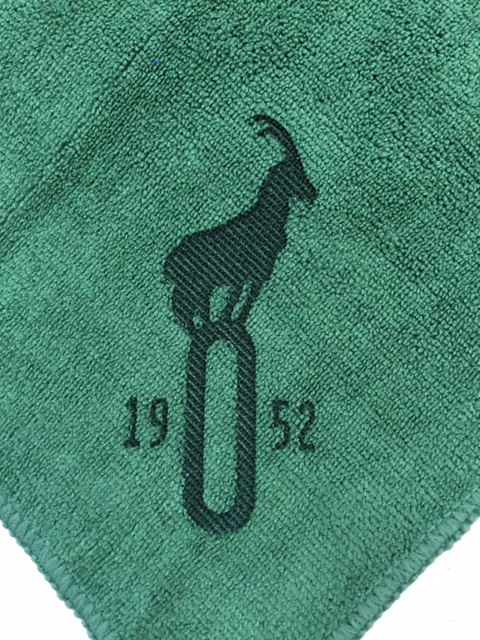 Laser Etch Technology – Minimum 48 Units.
Greens Towel is a pioneer in our Revolutionary Laser Etch Logo Technology. Our exquisite laser etch logos have now arrived at many of the finest golf resorts and country clubs. This new logoing process is now available for golf tournament outings, corporate golf promotions, and charity golf fundraisers.  The Laser Etch machine shaves the logo from the nap of the golf towel leaving a rich, classic look. Laser etched golf towels present an elegant, tone-on-tone logo that everyone loves. They are a fantastic new golf tournament sponsor gift idea.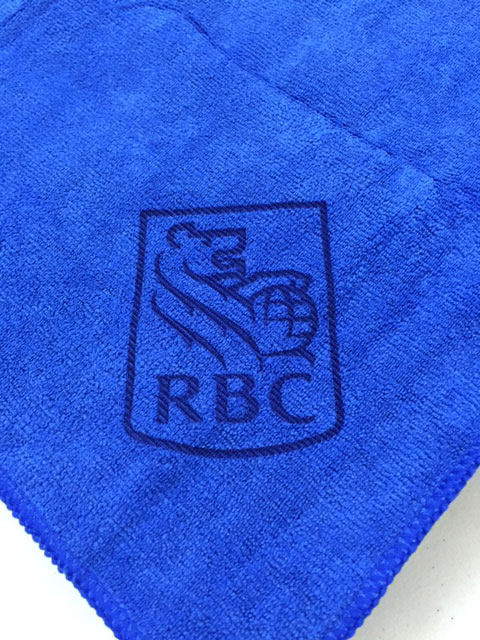 Laser Etch logos can't be multi-color. Our laser etch custom golf towel has superior feel, is tastefully subtle, and is more affordable than embroidered logos. Consider a new laser etch logo towel for your upcoming golf outing. We'll assist you in creating the perfect design for your event. Your players will use and appreciate their customized Greens Towels for the entire season. Click on "Request Quote" and we will reply promptly with 1st Class service. Turnaround time is usually under 5 days plus shipping time from San Diego.

Full Color Embroidery – Minimum 48 Units
Embroidery is the timeless method for custom logo golf towels and perfect for golf towels that require a multiple color logo. We'll work closely with you to ensure your embroidered logo is perfect before we take it to full production. Your custom embroidered Greens Towels will look better than expected. Click on "Request Quote" button and we will reply promptly with 1st class service. We look forward to helping you create the best embroidered golf towels for your corporate or charity event. Turnaround time is usually under 10 days plus shipping time from San Diego.
Pricing
Prices are per towel and reflect a standard size laser etch (approx 5.0″ across), or a standard size embroidery (approx 3.50″ across, 7000 stitches) – Embroidery digitizing is $40.00. Shipping is Free!
Quantity      Laser Etch       Embroidery
50+                    $6.25                  $8.00
100+                  $6.00                  $7.75
250+                  $5.75                  $7.50
500+                  $5.50                  $7.25
1000+                $5.25                 $7.00
5000+                $4.99                $6.50
How to Order a Custom Logo:
Our 4-step custom logo process takes approximately 7-14 days depending on your shipping location and approval turnaround.
1.     Fill out the online "Request Quote Form" and upload your artwork. We may need to call you with questions.
2.    Your quote will include: (Greens Towels, Custom Logo, Set Up Fees, and Shipping).
3.    Once we receive your logo approval, we'll e-mail you a final sample photo for final approval prior to production.
4.    You will have a tracking number before we ship your custom logo golf towels.
To "Request Quote" click the button below.
We donate to Charity Tournament Fundraisers.
Request Quote
Request Donation
Your Golf Tournament Gift Store
Greenstowel.com is your headquarters for custom logo microfiber golf towels and tournament accessories. Logo Golf towels make the most successful golf tournament gifts and golf outing prizes because they are long-lasting and provide a great return on investment. As a Corporate Golf Giveaway or a Golf Tournament Sponsors Gift, Greens Towels are a proven top choice.
One of our company missions is to help Charitable Golf Tournaments and Companies with their fundraiser gifts. In fact, we have donated to over 500 Charity Golf Outings with the perfect goody bag gift idea for their events. Over the years we have helped church fundraisers, outings for schools and athletic programs, military veterans and wounded warriors events, golf tournaments for various disease-related causes,  homeless and children-related tournaments, and many other awesome charitable fundraiser causes. Please go to our testimonials and see what other tournaments and sponsors have to say about Greens Towel and how we can help your next event!