Tournament Golf Tees
If you are looking for tournament golf tees, you have come to the right place. Golf tees are always a safe golf outing tee prize gift. We suggest you consider putting a NEW Performance golf tee in your goody bags. Every golfer likes to try the latest performance golf tees.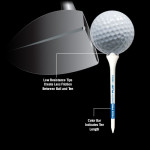 Browse our golf tees for tournaments selections and see the latest wood and performance golf tees. Our most popular golf tees are Evolution Golf Tees with less resistance allowing the ball to fly farther. Evolution Golf Tees are can be customized, are extremely durable and will be a smashing hit for your participants.
You can never go wrong with performance golf tees for your outing gift bags.
Your golf tournament tees gift store
Greenstowel.com is your headquarters for golf tees and golf outing prizes. One of our company missions is to help Charitable Golf Tournaments and Companies with fundraiser gifts. In fact, we have donated to hundreds of Charitable Golf Outings with the perfect goody bag gift idea for their events. Over the years we have helped church fundraisers, outings for schools and school athletics programs, military veterans and wounded warriors events, golf tournaments for various disease related causes,  homeless and children related tournaments, and many other awesome charitable fundraiser causes. Please go to our testimonials and read our thank you letters.