Request Quote
Request Donation
Custom Laser Etch Golf Towels
Laser Etch Technology – Minimum 48 Units.
Greens Towel the pioneer in Revolutionary Laser Etch Golf Towels. Our exquisite laser etch logos have now arrived at many of the finest golf resorts and country clubs. This new logo process is now available for golf tournament outings, corporate golf promotions, and charity golf fundraisers.  The Laser Etch machine shaves the logo from the nap of the golf towel leaving a rich, classic look. Laser etched golf towels present an elegant, tone-on-tone logo that everyone loves. They are a fantastic new golf tournament sponsor gift idea.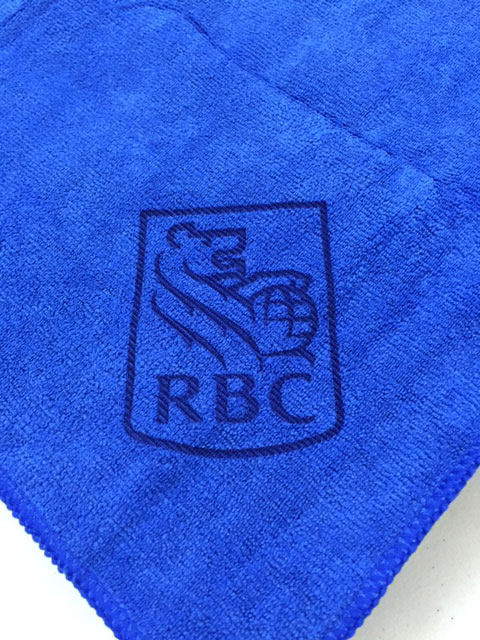 Laser Etch logos can't be multi-color. Our laser etch custom golf towel has superior feel, is tastefully subtle, and is more affordable than embroidered logos. Consider a new laser etch logo towel for your upcoming golf outing. We'll assist you in creating the perfect design for your event. Your players will use and appreciate their customized Greens Towels for the entire season. Click on "Request Quote" and we will reply promptly with 1st Class service. Turnaround time is usually under 7 days plus shipping time from San Diego.
Custom Laser Etch Golf Towels are now our most popular logo towel option. Minimum order Quantity is 48 pc, and you can mix colors to reach the minimum order. There are no set up fees when you provide a usable vector art file such as an Adobe Illustrator or Photoshop file.
We would be honored to assist you with a quote and an e-mail proof of your logo on our Microfiber Greens Towel. Click Request Quote and we will get back to you quickly.
Request Quote
We Donate to Charity Golf Fundraisers.
Request Donation
Request Quote