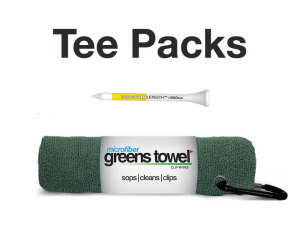 Pine Forest Greens Towel / 20 PTS 2.75″ Tee Pack Combo
This Forest Greens Towel / 20 PTS 2.75″ Tee Pack Combo of a pine forest microfiber Greens Towel with a 20 pack of 2.75″ professional tees is a winning gift for golf tournaments and outings. Today's golfers always need a convenient golf towel to keep their equipment clean. Greens Towel is correctly sized to keep handy in your back pocket so it's there when you need it. Made from super-absorbent microfiber that holds up to 7 times it's weight in water, Greens Towel removes dirt like a magnet keeping your gear clean so you can play your best. Greens Towel comes with a convenient carabiner clip to quickly attach to your golf bag.
Professional Tees by Pride are one of Golf's most Popular Wood Tees. Perfect for drivers under 360cc, these tees are a perfect match for medium headed drivers and fairway woods. Professional 2 3/4″" PTS tees properly position the ball with respect to the sweet spot, maximizing your distance off the tee. Professional PTS 2 3/4″ Tees come in white with a bold yellow stripe which golfers prefer. This combo pack is a great idea for golf tournament gift goody bags.
Min Quantity 12 Units
Tournaments with 100+ Players click below for quote.
Request Quote