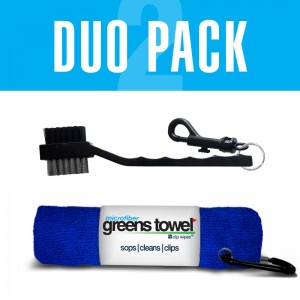 Greens Towel Duo Pack Blue
Today's golfers need a to be sure their equipment is not compromised by dirty grooves. That's why many golfers are keep a Microfiber Greens Towel Duo Pack on their bags.  
Perfect Cleaning Combination
Many golf towels are just too big. Greens Towel is correctly sized to keep handy in your back pocket so it's there when you need it. And when you get back to your golf bag you can quickly brush out the toughest mud with your 2 sided club brush. Quickly attaches to any golf bag.
Made from 16″x 16″ super-absorbent microfiber that holds up to 7 times it's weight in water, Greens Towel removes dirt like a magnet keeping your grooves clean to help you play your best. If you need it, you have your 2 sided brush for the stubborn mud deep into the grooves. Never miss a shot because of dirty golf equipment.
Greens Towel comes with a convenient carabiner clip to quickly attach to your golf bag. Easy-to-Use Club Brush comes with a thumb down clip for fast attachments.
Experience the benefits of Greens Towel Duo Pack and lower your scores by getting the most spin out of every shot.