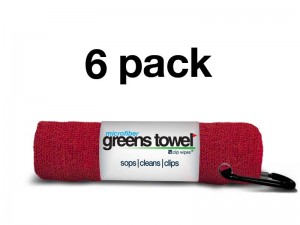 Golf Towel Red 6 Packs
Today's golfers need golf towels to keep equipment in peak condition. That's why so many golfers are buying our microfiber golf towel red 6 packs. Our Cardinal Red is the #3 best selling color but it should be #1. A red golf towel is a color that everyone loves. Christmas, 4th of July, Firemen, Sports Fans, Military, and golfers everywhere all love a red golf towel.
Perfect size – Many golf towels are just too big. Greens Towel is correctly sized (16″x 16″) to keep handy in your back pocket so it's there when you need it.
Super absorbent – Made from super-absorbent microfiber that holds up to 7 times it's weight in water, Greens Towel removes dirt like a magnet keeping your grooves clean to help you play your best. Never miss a shot because of dirty golf equipment.
Easy-to-use – Greens Towel comes with a convenient carabiner clip to quickly attach to your golf bag.
Superb for golf tournaments – Goody Bags, Raffle Prizes, and Tee Gifts. Now the #1 golf outing gift under $1000
Awesome golfers gift idea – Weddings, Birthdays, Fathers Day, and Christmas and Special Events.
Experience the benefits of Greens Towel and save on our microfiber golf towel 6 packs. Orders over $25.00 receive Free Shipping.