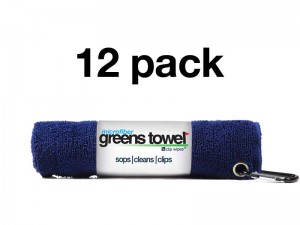 Golf Outing Giveaway Gifts
Today's golf outing committees are looking for the ideal golf outing giveaway gifts to put in their goody bags. Microfiber Greens Towels are perfect because golfers enjoy having a convenient microfiber golf towel to keep their equipment in peak playing condition. Greens Towels are a proven successful prize for golf outing gifts.
Many golf towels are just too big. Greens Towel is perfect sized to keep handy in your back pocket so it's there when you need it.
Super-absorbent microfiber that holds up to 7 times it's weight in water, Greens Towel removes dirt like a magnet keeping your grooves clean to help you play your best. Never miss a shot because of dirty golf equipment.
Greens Towel comes with a convenient carabiner clip to quickly attach to your golf bag.
Greens Towels are the ideal golf outing giveaway gifts below $5.00 – Now available in a 12 Pack. Free Shipping
We donate to Charity Tournament Fundraisers.