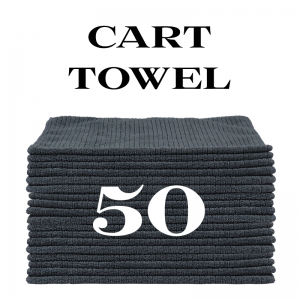 Dirt Magnet Cart Towels Charcoal Gray 50 PK

Our Dirt Magnet Microfiber Cart Towels will outlast cotton 3 to 4 times and look better as well. Microfiber cleans faster and costs less over the long run.
Perfectly sized
Cart Towels are ideal size at 20″ x 14″ to completely satisfy your players 18 hole needs.
Super Absorbent
Made of plush "ribbed design" microfiber for the ultimate combination of super absorbency and soft feel.
Long Lasting Value
Our Microfiber Towels are extremely durable and can be washed multiple times and still look great.
5 Great Colors
Cart Towels by Clip Wipes are available in 3 traditional golf color favorites – Forest Green, Royal Blue, Charcoal Gray, Chocolate Brown, Pure White
Care Instructions
Caring for your Microfiber Carts Towels by Clip Wipes is very easy. Keep a few simple things in mind and your towels will look like new for a long time. Wash with warm 100F water and a mild detergent (Liquid detergent is preferred to powdered detergent).
Do Not Use Bleach
Do Not Use Fabric Softener or Dryer Sheets
Do Not Wash with other cotton items, separate colors, do not wash dark and light colors together
Do not Dry with High Heat
Bleach will break down the polyester and polyamide fibers. Fabric softeners or dryer sheets will coat the fibers making them less effective. To prevent linting, do not wash Cart Towels with cotton fabrics as the lint from cotton items will get trapped in your microfiber towels. Drying with high heat will literally melt the fibers. Instead, tumble dry with low heat or no heat. If you keep to these care instructions, your Microfiber Cart Towels by Clip Wipes will last a long time looking like new!